Why solar power is leading sustainable energy investments
The recently released Finkel Review1 has once again highlighted that meeting growing energy demands while managing environmental, social and economic risk is one of the greatest challenges of our time. And while electricity generation is more efficient, population growth, electrical device propensity and increasing energy requirements in developing nations mean we're all using more. Fossil fuels have powered the global economy since the Industrial Revolution with rapid growth bringing significant environmental and health costs – costs that have prompted increasing political and community support for renewable energy technologies.
However, something quite remarkable has happened over the past decade
Economies of scale and technological advances have seen production costs of renewable energy decline dramatically. This reduction is particularly significant in solar electricity generation – the chart below shows that since 2009, the estimated average cost of producing electricity from very large or utility-scale solar in the US has fallen by more than 80 per cent. This means renewable electricity generation capacity can often be built at a lower cost of energy than fossil fuels – and in those areas with high solar irradiation (for example, Southern California) solar generation is now the lowest cost electricity source.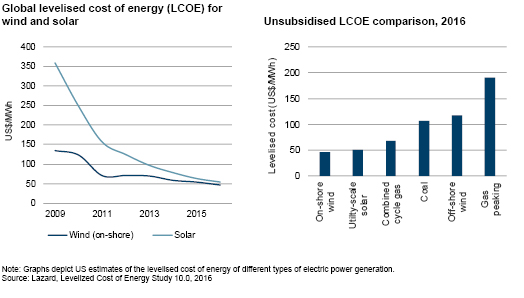 This market dynamic has prompted rapid growth in the development of solar generation capacity over recent years. And Australia has joined this trend with substantial growth in solar generation capacity expected over the next few years due to the increased competitiveness of solar.
And one of the stand-out opportunities this significant growth has created is a new infrastructure investment class – large-scale, stable, cash-flow producing solar power stations that generate emissions-free power on the back of technological innovations driving cost competitiveness.
Large-scale solar infrastructure is an investment opportunity with positive social impact
Last year, nearly US$288 billion was spent globally2 on renewable energy. While growth in alternative power generation over the past decade was supported by government subsidies, economic competitiveness will likely drive future growth.
Electricity produced from solar is now at cost parity with the electricity grid ('grid parity') in many markets, which is creating more investment opportunities than ever before. Until recently, solar investments were largely limited to high growth, technology-oriented, early-stage companies, but grid parity has broadened the investment opportunity and value of solar assets. This includes lower risk, cash-flowing solar assets producing power with zero direct carbon emissions.
Like all investments, solar assets are subject to risks3, but potential financial and social benefits include:
Access to a rapidly growing global opportunity
Evidence suggests global solar power generation could increase to 13 per cent by 2030 from less than two per cent today .
Low ongoing costs after initial investment
Fuel for solar assets is free and unlimited – life span of solar panels is 25+ years meaning the majority of investment costs are incurred upfront.
Generally lower operating costs
Once panels are producing, minimal operating costs and no input costs mean assets will generate cash flows throughout their useful life, irrespective of technology changes – so long as electricity doesn't become free.
Ongoing cash flow generation
Ownership of relatively low risk producing solar power stations that generate cash flows by selling zero emissions electricity into the power grid.
Socially responsible investments
Climate change, pollution, natural resource constraints and positive public sentiment towards sustainable investment are creating more demand for electricity procured from renewable sources.
Limited exposure to technology risk
Solar photovoltaics (PV) – conversion of light into electricity using semi-conducting materials – is not new technology, while investing in high quality assets may also be largely de-risked through long-term Power Purchase Agreements with high quality off-takers (i.e. governments, utilities and large corporations).
The US solar industry continues its strong growth with compelling investment opportunities
14,626 megawatts (MW) of solar PV was installed across the US in 2016 – a 95 per cent year-on-year rise5 – reaching over 40 gigawatts (GW) of total installed capacity6. This generated enough electricity to power around 6.5 million homes7. And the outlook remains positive. There are 8 GW of utility-scale PV projects under construction, 46 GW at various stages of development8 and a further 14 GW of new installations forecast for development in 20179.
Relative to the US, there has been a more limited number of large-scale solar investment opportunities in Australia to date – our total installed large-scale solar capacity currently only stands at around 0.3 GW. However, this is accelerating with the potential to more than triple over the next few years10.
Renewable energy is likely to represent 44 per cent of total global generation by 203011
Evidence suggests this increasing demand for renewable energy production is largely driven by improving system efficiencies, reductions in capital costs with declining costs of silicon, growing awareness of issues like air pollution, and retirement of traditional coal-fired power facilities.
Stanford University12 in the US is an innovative leader in adopting the technology. The Stanford Solar Generating Station commenced operations in December 2016 and harnesses more than 150,000 solar panels supplying the university with over half of their energy requirements. By sourcing their electricity this way, Stanford University will reduce their greenhouse gas emissions by 68 per cent13. This is an achievement that their Executive Director of Sustainability and Energy Management Joseph Stagner says creates, "…a living laboratory for a university that champions sustainability, champions innovation, education and research to show the world that this can be done, and it can be done in a way that makes good business sense for the long term…"14.
The combination of technological change and policy support driving grid parity in many markets (including parts of Australia and the US) brings an opportunity for organisations to take advantage of cost-effective solar power by using larger capacity off-site solar resources to reliably serve a greater percentage of the demand. And with that comes an attractive opportunity for Australian investors to potentially achieve a stable long-term return and generate social benefit.

John Martin is the Managing Director and CEO of New Energy Solar, a sustainable investment business initially focused on investing large-scale, cash-flow producing solar power stations that generate emissions-free power. New Energy Solar Manager Pty Limited is the Investment Manager of New Energy Solar (ASX:NEW) and a wholly owned subsidiary of Evans Dixon Limited (ABN 54 609 913 457).
This insight may contain general financial advice and was prepared without taking into account your objectives, financial situation or needs. Before acting on any advice, you should consider whether the advice is appropriate to you. Seeking professional personal advice is always highly recommended. Any forward-looking statements are based on current expectations at the time of writing. No assurance can be given that such expectations will prove to be correct.

Interested in learning more?
Lyle Meaney, Managing Director, Wealth Advice
As a country that weathered the GFC better than most, Australia is now seen to be a major underperformer behind the US. Or are we? Headline figures reveal...Read more
Ishara Rupasinghe, Director
Buying your first home, no matter how old you are at the time, is a big achievement. Among a raft of initiatives designed to tackle housing affordability in...Read more