Dixon Advisory wins its third Australian Business Award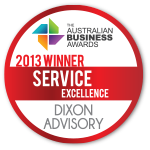 Dixon Advisory has been recognised for delivering outstanding customer service as 2013 Winner of the Australian Business Award for Service Excellence.
This is the third consecutive year the firm has received an Australian Business Award, having been named winner in the Service Excellence category in 2012 and having received the award for Best Consumer Product for its self managed super fund service in 2011.
Dixon Advisory provides a complete self managed super fund administration, compliance and accounting service as well as investment advice and portfolio management. In addition to setting up the fund, the SMSF accounting team does everything from day-to-day processing and payments through to maintaining up-to-date accounts, the year-end financials, the year-end tax return, co-ordination of the audit and all aspects of compliance. Clients have their own designated account manager and investment adviser.
As well as the SMSF/Investment service, a number of supporting services are available to clients as they need them on a fee-for-service basis. These services include: strategic financial advice, pe rsonal insurance, estate planning and property and mortgage advice.
In 2012, the firm developed, in consultation with clients, a customised web application, myDixon, which shows the latest information about clients' specific investment portfolio, indicating where shares are held and the asset allocation as well as income from investments, most of which is updated daily.
This means clients have their investment information at their fingertips when they discuss recommendations with their investment adviser and can make decisions in a timely manner and on a considered basis.
The Australian Business Award for Service Excellence recognises organisations that have achieved outstanding results through initiatives that demonstrate leadership and commitment to service excellence.
The awards highlight the achievements of leading organisations within the private, public and non-profit sectors.