Melbourne office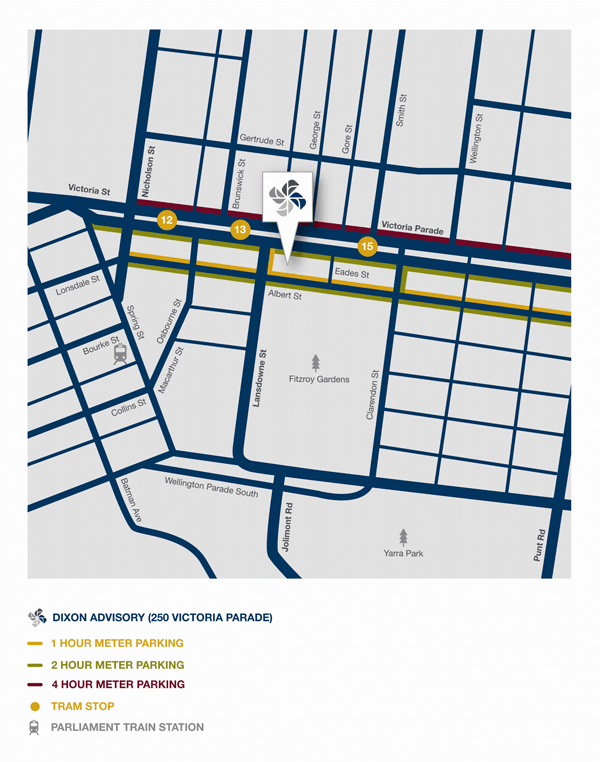 Directions
If you're heading along Victoria Parade towards the city, you'll find our building between Lansdowne St and Eades St. You can also reach the office easily by public transport. The 109 and 112 trams stop near the office, with three stops along Victoria Parade (See map). If you're travelling on the 109 tram, get off at stop 13 or 15, and on the 112 tram alight at stop 12.
Parking
Lansdowne Street
There is side street metre parking available on either side of Lansdowne St - 1P | 7:30 am - 6:30 pm | Mon-Fri

Eades Street
There is a communal parking lot on the corner of Victoria Parade and Eades St. The entrance to the parking is via Eades St once turning off Victoria Parade. Parking rates are $7 per hour. There is also side street metre parking up to 2 hours – approximately 20 spaces either side of Eades St.
Victoria Parade (east bound)
There is side street 1P metre parking along the curb of the Liberty Petrol station on Victoria Parade heading east towards Hoddle St. Parking spots between Lansdowne St and Smith St are closest to the Dixon Advisory office.

Albert Street
There is 2P metre parking 9:30am - 6:30 pm (Fitzroy Gardens side) as well as 1P metre parking available on the building side from 7:30 am – 4:00 pm