Deloitte Private provides holistic advice for its clients across business, accounting, tax, strategy and structuring and across a range of entities including SMSFs and portfolios. Dixon Advisory has been identified as an alternative SMSF advisor, helping Deloitte Private "manage, grow and protect their clients wealth – their legacy".
Note: This landing page has been designed for Deloitte Private Partners and staff only.
Ailgned with the Deloitte Private value proposition
Specific ways we believe that our partnership can assist Deloitte Private include:
Facilitate your strategic advice
meeting a client need; "helping find a solution to a challenge...and capitalise on opportunities"
online client SMSF and portfolio positions; providing visibility for the strategic advice you provide
information supporting your ongoing strategy advice e.g. investment insights, education seminars
ability to support clients nationally with a personal, high touch service.
SMSF support alternative
specialist outsource fund administration (compliance, accounting and tax)
year round transaction and mail-house support; saves time and hassle and reduces risks
integrated SMSF and Investment solution – all in one place
ability to support both SMSF and portfolio – investments that work together
Increase client value
direct access to specialist investment advice and SMSF tailored investments
solutions for common issues clients face in low interest but volatile market conditions
ongoing investment insights and education
a capped fee structure and ability to remove costly WRAP structures.
Complementary service offering
you retain the role of primary advisor, providing ongoing financial strategy and structuring advice
you remain in control of the client relationship; we don't provide business advice or accounting compliance services
our investment advisors are investment focussed; an area of advice that Deloitte Private do not provide clients.
The Dixon Advisory Solution
In developing our solution we considered that a key requirement for your SMSF clients will be to continue to receive similar SMSF support services for the same price. We also anticipate that a number of them would be interested in someone taking the administration of their fund off their hands and accessing SMSF tailored investment advice – specifically investment opportunities between cash and equities.
We also believe that our solution will enable Deloitte Private Partners to focus on the ongoing business advice requirements of their clients.
Continued SMSF accounting support – consistent with current services provided by Deloitte Private your clients will be supported by an SMSF accountant who will ensure completion of annual financial statements, tax, audit, and compliance (including minutes). We aim to have 90% of SMSF accounts and tax returns completed by 31 October each year.
Matching your client's current SMSF fees – the annual fee for the first 2 years will be no more than their 2015 Deloitte Private fee, and may be less if it exceeds our cap.
Year round administration – our administration services include year round transaction and mail-house support, and online client SMSF and portfolio positions – providing year round visibility of your clients positions.
Tailored Investment Advice – your clients will be provided with tailored advice from investment specialists (not generalists) based on Dixon Advisory's Investment Committee's macro economic views and insights. They will also have access to investments developed by Dixon Advisory tailored for SMSF trustees.
Free upgrade to our Gold Service – for the first 2 years we will provide all Deloitte Private clients with our Gold Service ($3,000pa value) which includes prioritised completion of returns, invitations to exclusive investment & economic seminars, quarterly portfolio reviews and priority allocation to investment opportunities.
Discounted transaction fees – we will reduce our maximum investment transaction fees for your clients to $110 per trade for the first 12 months of service.
Coverage of all 14 clients – from the data provided we are immediately able to accommodate 13 of the 14 clients, we will require further information on 1 low balance client before confirming.
In addition we will also invest in our partnership by providing:
tailored investment seminars for Deloitte Private partners and staff, and potentially clients
access to our investment specialisation through advice, insights and investment opportunities.
How our services will benefit your clients
Our supported SMSF model provides an alternative to your clients doing it all themselves, or receiving separate advice from third party (generalist) financial planners.
Some potential issues your clients may be facing, and how our services can assist, include:
Potential client issues
Uncertainty and losses incurred from increased volatility in equity markets.
Record low cash and interest rates.
Lack of alternative asset classes to provide risk-rated returns.
Skewed to one asset class, either Australian equity, cash or property, and potentially large, lumpy assets.
Too much time spent on paperwork rather than personal and business decision-making.
Lack of time, capability and desire to do it all themselves.
Paying high fees for advice from a generalist financial planner.
Complicated and costly WRAP structures.
How we can help
Internal Investment Committee applies its 160+ years collective experience to provide proactive advice.
Capability to develop products and provide access to investments tailored to SMSF trustees.
Providing access to asset classes between cash and equities.
Dedicated specialist Investment Advisor and SMSF Administrator that work together to support each SMSF.
Secure online access to SMSF reporting.
Year round mail house and compliance service.
Capped fee model, with preferred arrangements for Deloitte Private clients.
Our investment insights – an example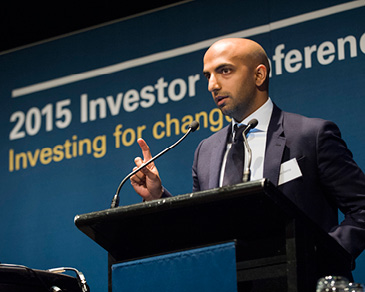 Discover the power of India's middle class
For 30 years prior to the GFC, the Australian sharemarket was one of the world's best performers and many of us did not feel the need to look abroad when investing. But times have changed. Emerging markets such as India are thriving. India's population is enjoying the perks of a rising middle class jumping on consumption. Their investment into everything from pizza to local travel to underwear may in fact, in our view, provide stronger growth prospects for Australian investors. Ravi Metha explains why India's population dynamics are positioned for growth and how it is conducive to strong equity returns.
Things to think about
Am I taking control of my life savings today to prepare for the future?
Have I changed where I am investing to allow for changes in the Australian economy?
Am I positioned to benefit from the consumer purchasing growth in India?
Where to from here?
We are happy to meet with Deloitte Private Partners, and/or their team, who would like to gain a greater understanding of Dixon Advisory, how we fit within the Deloitte Private proposition, and how we can provide an alternative supported SMSF solution for clients.
We will also invest in our partnership by providing:
tailored investment seminars for Deloitte Private partners and staff, and potentially clients
access to our investment specialisation through advice, insights and investment opportunities