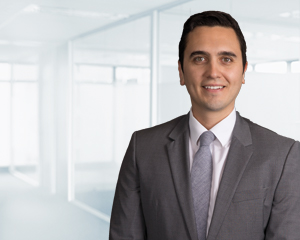 Alex O'Brien
Director
CFP®, BAppFin, BEc, GradDipFP
Helping clients understand their current financial position and providing advice on a range of strategies that can help them achieve their retirement goals is central to Alex O'Brien's role as Director.
A member of the Family Wealth Management strategy team, Alex has expertise in superannuation including self managed super funds, tax-effective strategies, retirement planning, wealth accumulation, personal insurance, debt management, cash flow analysis and succession planning.
He also has experience in defined benefit superannuation schemes, having helped many public servants maximise their financial situation and, in some cases, manage redundancies
On a day-to-day basis, Alex develops a thorough knowledge of his clients' situation to understand "where they are now and where they want to be", investigates potential strategies, prepares a comprehensive statement of advice and assists clients to implement the advice
"Ultimately, I'm helping clients feel comfortable about their retirement, make sure their goals are achievable and understand the steps they need to take to achieve those goals," Alex said
"Sometimes it's a case of working longer and saving more; other times clients can retire earlier than they expected. It depends on each individual case."
Alex has a Bachelor of Applied Finance and Bachelor of Economics from Macquarie University. He also has a Graduate Diploma of Financial Planning from Kaplan Professional and is a Certified Financial Planner® (CFP).