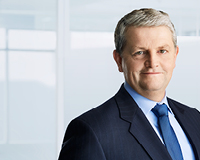 John Martin
Managing Director and CEO, New Energy Solar – Walsh & Company
B.Ec (Hon)
John Martin is a leading infrastructure and energy advisory expert. Passionate about supporting sustainable energy initiatives, he brings more than two decades of experience in banking and corporate advisory, energy and infrastructure investment, and financing to help drive the company's strategic direction.
John says the pace of change in the renewable energy market is accelerating and he believes that sustainable assets like solar infrastructure now provide a solid long-term investment opportunity for those seeking diversification in their portfolios. He says, "There are high-quality solar energy infrastructure assets already available with considerable opportunity looking forward, particularly in the US and Australian markets".
John's wealth of experience advising major organisations in the energy sector has intimately exposed him to the trends and developments in sustainability. He says that large corporations are now actively seeking and investing in alternate power sources to reduce energy costs and meet their social impact goals. "It's an exciting time for investors with opportunities to capitalise on the growing efficiency and relative cost advantage of renewable power generation."
Prior to joining Walsh & Company, John advised on more than $10 billion of infrastructure and utility mergers, acquisitions and financing transactions at corporate advisory firm Aquasia. He was previously Head of National Australia Bank Advisory and joint Head of Credit Markets and Head of Structured Finance at RBS / ABN AMRO managing the market-leading infrastructure capital business for development and financing of Australian infrastructure and utility projects. John started his career as an economist with the Reserve Bank of Australia and then worked in various treasury and risk management positions, before joining PwC as the partner responsible for financial risk management including advising energy companies trading in the Australian national electricity market.
John is a member of the Advisory Board for Walsh & Company's US Select Private Opportunities Fund III, and is a past Director of Infrastructure Partnerships Australia. He holds a Bachelor of Economics (Honours) from The University of Sydney.