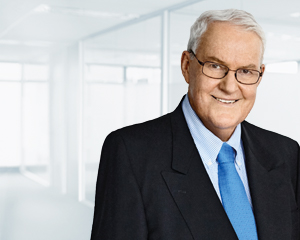 Daryl Dixon
Executive Chairman
BA Hons (Qld), MA Hons (Cantab)
Daryl Dixon is the Executive Chairman of Dixon Advisory. Daryl is one of Australia's foremost investment experts and a well known writer and consultant. He has provided trusted advice to thousands of personal clients over more than 25 years and is an acknowledged expert in the areas of tax, superannuation (including public sector superannuation), social security and investments. He has been a successful investor for more than 40 years and consults on personal and business finance strategies.
Daryl is the author of numerous newspaper articles on investment and superannuation and writes regularly for The Canberra Times, the Public Sector Informant and Financial Review Smart Investor magazine. He has written a number of books, including Secure Your Superannuation Future (2012) and An Uncertain Future (2013).
Before establishing his own consulting firm, Daryl worked in the International Monetary Fund, the Treasury, the Department of Finance and as Head of the former Social Welfare Policy Secretariat on major policy issues. He has worked as a consultant for a variety of government bodies and undertaken a large number of consultancies for diverse organisations covering the public, private and voluntary not-for-profit sections of the economy.
Daryl has a Bachelor of Arts, majoring in Economics with First Class Honours from the University of Queensland. He won the Shell Scholarship allowing him to complete a Master of Arts, majoring in economics also with First Class Honours from Cambridge University in the UK. Daryl has lectured in economics, public finance and taxation theory at the Australian National University and the University of Calgary, Canada.
Books by Daryl Dixon
An Uncertain Future: Exploring the Issues and Options for UniSuper Defined Benefit Fund Members (2013)
Securing Your Superannuation Future: How to Start and Run a Self Managed Super Fund (2012)
Super Strategies for the 21st Century: Post GST (2000)
New Super Strategies: Your Plain English Guide to Superannuation: For Employees, Employers and the Self Employed (1994)
68 Super Strategies (1992)
201 Tax and Investment Strategies (1991)
The Way Ahead in Fiscal Policy (1991)
An Independent Guide to The New Commonwealth Super Scheme: The New and Old Schemes Compared (1990)
The Australian Pensions Guide: How to Get the Age or Service Pension and Maximise Your Benefits (1990)
The New Super Made Easy: Your Guide to Superannuation as Investment (1989)
Unemployment: The Economic and Social Costs (1988)